What is a Growth Mindset?
Over 30 years ago, Carol Dweck and her colleagues became interested in students' attitudes about failure. They noticed that some students rebounded while other students seemed devastated by even the smallest setbacks. After studying the behavior of thousands of children, Dr. Dweck coined the terms fixed mindset and
growth mindset
to describe the underlying beliefs people have about learning and intelligence. When students believe they can get smarter, they understand that effort makes them stronger. Therefore they put in extra time and effort, and that leads to higher achievement.

Recent advances in neuroscience have shown us that the brain is far more malleable than we ever knew. Research on
brain plasticity
has shown how connectivity between neurons can change with experience. With practice, neural networks grow new connections, strengthen existing ones, and build insulation that speeds transmission of impulses. These neuroscientific discoveries have shown us that we can increase our neural growth by the actions we take, such as using good strategies, asking questions, practicing, and following good nutrition and sleep habits.

At the same time that these neuroscientific discoveries were gaining traction, researchers began to understand the link between mindsets and achievement. It turns out, if you believe your brain can grow, you behave differently. So the researchers asked, "
Can we change mindsets? And if so, how?
" This began a series of interventions and studies that prove we can indeed change a person's mindset from fixed to growth, and when we do, it leads to increased motivation and achievement. For example, 7th graders who were taught that intelligence is malleable and shown how the brain grows with effort showed a clear increase in math grades.

In addition to teaching kids about malleable intelligence, researchers started noticing that
teacher practice
has a big impact on student mindset, and the feedback that teachers give their students can either encourage a child to choose a challenge and increase achievement or look for an easy way out. For example, studies on different kinds of praise have shown that telling children they are smart encourages a fixed mindset, whereas praising hard work and effort cultivates a growth mindset. When students have a growth mindset, they take on challenges and learn from them, therefore increasing their abilities and achievement.
Decades of Scientific Research that Started a Growth Mindset Revolution. (n.d.). Retrieved July 11, 2017, from https://www.mindsetworks.com/Science/Default
What does this look like in class?
In this class we overcome challenges through hard work and perseverance. Students are asked to step outside of their academic comfort zone and engage actively in challenging activities that will help students achieve overall mastery in World History. Students will be given multiple opportunities to achieve mastery of concepts throughout the semester. Students will show mastery through multiple avenues - assessments both written and multiple choice, projects, class discussions, and written work. Students who do not achieve mastery will be given remediation strategies to ensure growth towards mastery. Students who do not achieve mastery will be requested to attend specific tutorial times that are specifically geared toward the concept or standard the student is working toward mastering.
How can you implement Growth Mindset practices at home?
The way we praise our children can have a profound impact on their mindset. Research on praise and mindsets shows that when we praise children for being smart, it promotes a fixed mindset. It sends a message that their accomplishments are trait-based, and tied to something innate. In contrast, praising kids for working hard promotes a growth mindset. It sends a message that the child's effort is what led them to success. Help cultivate a Growth Mindset at home using the following phrases:
​
SAY THIS
"I can see you worked so hard on this!"

"It seems like it's time to try a new strategy."

"It looks like that was too easy for you. Let's find you something challenging so your brain can grow."

"You've worked hard to become a good writer. You should challenge yourself with an advanced class, and learn something you don't know how to do yet."

"That was really hard. Your effort has paid off! Next time you'll be ready for this kind of challenge!"
NOT THAT
"You are so smart!"

"It's okay. Maybe you're just not cut out for this!"

"You're a natural at that!"

"That's right! You did that so quickly and easily; great job!"

"That was really hard. I'm so glad it's over and you don't have to do that again."
How Parents Can Instill a Growth Mindset at Home. (n.d.). Retrieved July 11, 2017, from https://www.mindsetworks.com/parents/growth-mindset-parenting
Powered by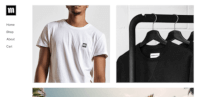 Create your own unique website with customizable templates.