American History I
American History I will begin with the European exploration of the new world through Reconstruction. Students will examine the historical and intellectual origins of the United States from European exploration and colonial settlement to the Revolutionary and Constitutional eras. Students will learn about the important political and economic factors that contributed to the development of colonial America and the outbreak of the American Revolution as well as the consequences of the Revolution, including the writing and key ideas of the U.S. Constitution. American History I will guide students as they study the establishment of political parties, America's westward expansion, the growth of sectional conflict, how that sectional conflict led to the Civil War, and the consequences of the Civil War, including Reconstruction.
American History II
American History II will guide students from the late nineteenth century time period through the early 21st century. Students will examine the political, economic, social and cultural development of the United States from the end of the Reconstruction era to present times. American History II will trace the change in the ethnic composition of American society; the movement toward equal rights for racial minorities and women; and the role of the United States as a major world power. An emphasis is placed on the expanding role of the federal government and federal courts as well as the continuing tension between the individual and the state. The desired outcome of this course is for students to develop an understanding of the cause-and-effect relationship between past and present events, recognize patterns of interactions, and understand the impact of events on in the United States in an interconnected world.
Powered by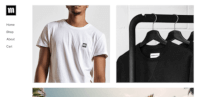 Create your own unique website with customizable templates.